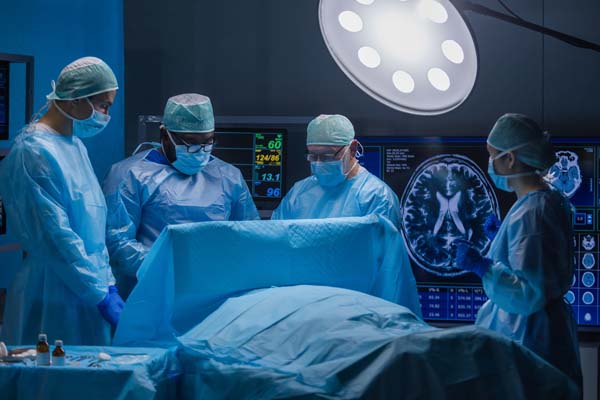 A pediatric neurosurgeon can diagnose spinal deformities as early as in the womb. If you are a parent, the worry associated with pregnancy, labor, and delivery never ends. Even after a child is born, the worry never stops. Today's advanced medical technology allows spinal deformities to be diagnosed quickly due to many factors such as family history, patient history, and a complete physical examination.
Once properly diagnosed, treatment can begin. In some cases, surgery may be necessary, but it is fairly common for other avenues may be visited first. The treatment plan may be designed by a pediatric neurosurgeon based on many factors, including the severity of the deformity and how long it has been there.
Different types of spinal deformities
There are several different types of spinal deformities, and it is best to have a pediatric neurosurgeon perform a complete examination before hearing the diagnosis.
Kyphosis – This spinal deformity occurs when an abnormal forward curve is located in the upper spine.
Lordosis – This type of deformity occurs in children when their bones in the lower back curve inward. This can give a swayback appearance (this is sometimes what it is referred to as).
Scoliosis – This spinal malformation occurs when a child's spine curves sideways. Cases of scoliosis can range from very minor to severe.
Attending all prenatal doctor appointments and the child's pediatric visits is important. At these appointments, any type of spinal abnormality can be found. The earlier the treatment, the better outcome for the child.
How are spinal deformities treated?
If a child is diagnosed with a spinal deformity, it is advised to do research and ensure that they are under the care of a well-respected pediatric neurosurgeon. In many cases, the child will not need to undergo major surgery, however, it is better to be appropriately prepared.
There are many cases in which the child's doctor may put them on a treatment plan that involves physical therapy to help treat and repair the issue. It is also very typical for a child to have a brace put in place that will target the spinal deformity and help with the symptoms.
No parent wants to see their child deal with this type of health issue, but if diagnosed early and treated properly, there is hope for a somewhat normal life ahead.
Symptoms of a spinal deformity in children
Parents should understand that children go through growing stages, and back pain can be common. However, it is important to understand the difference between normal "growing pains" and a more serious issue.
If a child complains more often than normal about back pain or if they seem to be walking with a "waddle," it is advised to discuss it with a doctor.
Reach out to your doctor for more information
Paying attention to your child and noticing any symptoms early on could make a huge difference in their future. Always trust your parental instincts and contact your doctor if you think something just isn't right.
Request an appointment here: https://www.drloudonpediatricneurosurgery.com or call Dr. William G. Loudon, Pediatric Neurosurgery at (714) 677-9463 for an appointment in our Orange office.
Check out what others are saying about our services on Yelp: Pediatric Neurosurgeon in Orange, CA.
---
Related Posts
June 2, 2023
A neurosurgeon for kids is a medical specialist who focuses their efforts on treating brain tumors, often via surgery. One of the most common ways that brain tumors in children are treated …