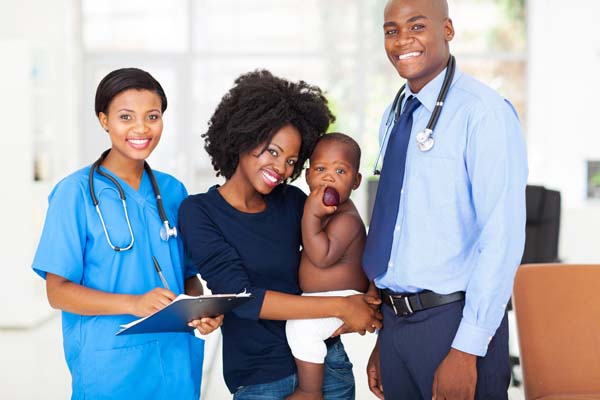 Hydrocephalus is one of the most common pediatric neurosurgery conditions. Also known as water on the brain, it is a condition that causes fluid to build up in the brain. In fact, it is not water building up on a child's brain, but rather cerebrospinal fluid (CSF). The condition usually occurs at birth. However, it can also develop during infancy, childhood or adolescence.
CSF is a type of fluid that everyone produces continuously. It is made up of salts, glucose and sodium. CSF is produced in the ventricle system surrounding your brain and spinal cord. Over time, the fluid is absorbed into the large veins on the surface of your brain and combines with blood before being transported to your heart.
Hydrocephalus causes
Pediatric hydrocephalus is sometimes caused by genetics. However, sometimes it is associated with disorders like spina bifida and encephalocele. Head injuries, brain tumors and meningitis have been linked to hydrocephalus as well. Symptoms may include seizures, fussiness, vomiting, fatigue, lack of appetite and large head circumference in infants. When children are older, however, additional symptoms may include the following:
Crossed eyes
Headaches
Muscle spasms
Personality changes
Facial structure changes
Decreased coordination
Difficulty concentrating
Bladder problems
Memory problems
Hydrocephalus treatments
When patients are diagnosed with pediatric hydrocephalus, there are a few different treatment options available. In most cases, the condition can be treated with shunts. The shunt itself is a small silicone tube that makes it easier for CSF fluid to flow in the right direction. This surgical procedure places a shunt near the buildup of fluid to bypass the buildup of CSF.
Another treatment method includes performing an endoscopic third ventriculostomy. However, not every type of hydrocephalus can be treated with this method. The procedure involves creating a small hole in a patient's ventricles to promote normal flow of CSF fluid. In short, these treatment options create a detour of sorts so CSF can flow properly. This method benefits patients because it does not involve placing something foreign near a patient's brain. Because of this, risk of infections and other complications is lower.
Outlook
The prognosis for children suffering from pediatric neurosurgery conditions like hydrocephalus may vary. In truth, that depends on several factors. These include the child's symptoms, age and how severely they were affected by the condition. Unfortunately, children often experience extensive brain damage that affects them throughout life. Parents can give their children a chance for a bright future by working with a pediatric neurosurgeon. A team of special education teachers, pediatricians and developmental therapists will also help.
Pediatric neurosurgery can help your child
If you suspect your child may have hydrocephalus, schedule an appointment with a pediatric neurosurgeon. During an exam, the doctor will check your child for symptoms of the condition. The pediatric neurosurgeon will formulate a treatment plan if the condition is present. Pediatric neurosurgery conditions like hydrocephalus are no joke.
Request an appointment here: https://www.drloudonpediatricneurosurgery.com or call Dr. William G. Loudon, Pediatric Neurosurgery at (714) 677-9463 for an appointment in our Orange office.
Check out what others are saying about our services on Yelp: Read our Yelp reviews.
---
Related Posts
November 12, 2020
Looking for information on the topic of children's brain surgery? Pediatric neurosurgeons are medical professionals who perform this type of surgery. Neurosurgeons are specifically trained in diagnosing and treating brain, spine and nerve problems.Brain cancer …